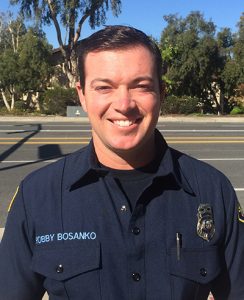 Meet Mission Viejo firefighter Robert Bosanko. Robby is an EMT at Station 24 on Marguerite Parkway between Oso and La Paz Road. For the last 4 years Robby has been serving the City of Mission Viejo residents. Recently, he was nominated as OCFA Firefighter of the Year.
The Mission Viejo Reporter met with Robby and noticed he's got to be the happiest fireman in Orange County, and here's why: Robby grew up right here in Mission Viejo. He attended La Paz Jr High and graduated from Mission Viejo High School. He now lives just over the hill in Rancho Santa Margarita. Both Robby's mom and dad were teachers at Mission Viejo schools, his mom, at La Paz Intermediate and his dad at Mission Viejo High School and they still live in the Pacific Hills neighborhood.
A typical Shift for Robby is 48 hours on and 96 off. As an EMT, Robby is a first responder in the event of a medical emergency. The Station 24 crew responds to many calls every week aside from fire emergencies. They respond to accidents, traumas and all types of medical emergencies.
Next time you see Station 24's red fire engine rolling out onto Marguerite on the way to save somebody's life, wave at Robby. He's the guy in the backseat with the big smile.