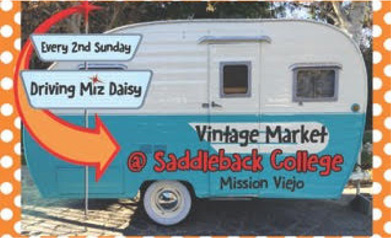 Vintage Market in Mission Viejo
Driving Miz Daisy Vintage Market is open every 2nd Sunday, 8am-3pm, in the Saddleback College parking lot.
Driving Miz Daisy Vintage Market was born out of the love we have for everything old, unusual, and of course, kitschy! We wanted to bring this mindset to South Orange County and offer a much desired outdoor shopping experience.
We didn't want this to be your typical flea market! So each month we gather an eclectic blend of over 190 vendors offering unusual items, ranging from antique to architectural, that are artfully displayed to showcase what's trending now. Our goal is to appeal to all different age groups, but we also want to focus on and embrace the upcoming generation who are in favor of the salvaged, the restored, buying local, and being "GREEN" We want our shopper's living environments to tell a story blending the old with the new and creating fresh and innovative design concepts! Style that is original, not mass produced.
Also, we love good food, so our Vintage Market offers several gourmet food trucks, two great bands, classic cars and vintage campers! We're all about FUN and we promise you an exceptional shopping experience!