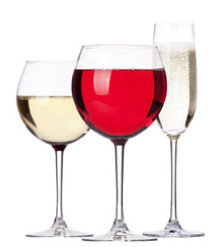 Hi, I'm Paulie V, and welcome to Wine Time. We're going to talk about everything you can do with wine, tasting, cooking, food pairing etc.
This month, we're going to talk about delicious wine finds $20 or under, that I think you'll enjoy, readily available to all of us Mission Viejo grape juice lovers. I'll probably insert a little wine trivia here and there, just to keep it interesting. Do you know the optimum temperature to serve red wine? No, it's not room temperature. Red wine should be served at between 62 and 68 degrees F. You say "and what about white?" The answer is: best flavor and aroma is achieved between 49 and 55 degrees.
Now to the wine! My all time favorite lighter red wine is Cambria Estate Pinot Noir, Julia's Vineyard. The 2012 vintage is phenomenal. I've been drinking this since the 80's and it gets better every year as the vines age gracefully. This Santa Maria wine is silky, rich, elegant and earthy with solid tannins. It has fresh strawberries on the nose with an amazing blackberry finish that leaves you yearning for more with every sip. Great with Brie or Fontina cheese or with a plate of fresh fruit with prosciutto. Solid at dinner time as well, pair with rich Italian dishes such as Penne alla shrimp Puttanesca or wood fired roasted tomato and arugula pizza. You can get this at Total Wine or Costco for less than $17, and by the way, its rated 91 points by Wine Enthusiast, amazing buy!