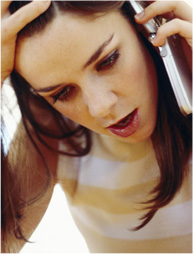 Hang-up and Follow-up!
Mission Viejo Residents Protect Yourselves
The Mission Viejo Sheriff's Department has received an alarming increase of complaints and crime reports relating to scams where victims were told they owed money for outstanding arrest warrants or debts owed to the IRS.
The public should know that law enforcement personnel never act as collection agents for any government or private agency and will never threaten to arrest in order to collect fees, fines or debt.
How the scam works: people posing as law enforcement personnel place phone calls to would-be victims, informing them that they or another family member are about to be arrested. The caller continues by stating that fees and fines levied by the courts or the IRS must be paid immediately to remove the imminent threat of arrest. Victims are instructed to purchase pre-paid debit cards loaded with enough funds to pay the debt. Once purchased, the caller will ask for the number printed on the back of the prepaid card. The number allows the scammer to access all funds loaded onto the card from any location. Then the scammer, and the victim's money, disappear.
If you receive a call and are threatened with arrest for payment of any type of debt, fee or fine, Hang-up and Follow-up! If you determine the caller's claims are false, which is more likely the case, ignore all subsequent calls and report the caller to the Federal Trade Commission (FTC) at www.ftc.gov/complaint. If you become a victim of this or any other scam, report it to your local law enforcement agency.
For more information about these and other types of scams, call the Mission Viejo Sheriff's Department at (949) 770-6011.
If you would like Mission Viejo Reporter to be mailed to your neighborhood ,
Call (949)364-2309